Introducing the Show Us Your Regina The City That Rhymes With Fun Shirt from 9Teeshirt! This cheeky design pays homage to the lively spirit of Saskatchewan's capital city, Regina, while adding a touch of humor to showcase your love for this vibrant destination.
Have you heard of this story? On Thursday the tourism agency of Saskatchewan's capital city did what many had been calling for since it rebranded itself as Experience Regina a month ago. It re-rebranded itself as Tourism Regina. And it dropped the cheeky reference to the city rhyming with part of the female anatomy.
The campaign included such slogans as "show us your Regina" and "We are the city that rhymes with fun," a joke that was already old when Mick Jagger made it in 2006 when the Rolling Stones played Saskatchewan for the first time at Mosaic Stadium, home of the Roughriders.
The Experience Regina name was taken from a video that went viral on YouTube in 2008, of an earworm song that told people to "experience Regina." But after significant public and political backlash, the municipally-funded agency reverted to Tourism Regina on Thursday, with all websites and social channels going back to its original name.
Immediately after this event, a series of shirts were born with the words "Show Us Your Regina, The City That Rhymes With Fun" printed. We did not pass up this opportunity and immediately began to produce such eye-catching shirts. Each letter is prominently printed on the shirt background, many fonts and text effects are used to create a soft and flexible feeling for the wearer.
The design can be seen as a hit with locals, who see them as a way to reclaim and celebrate the city's identity with a sense of humour. People proudly wear them to events, festivals and gatherings, sparking laughter and camaraderie between Regina residents and visitors from all over the world.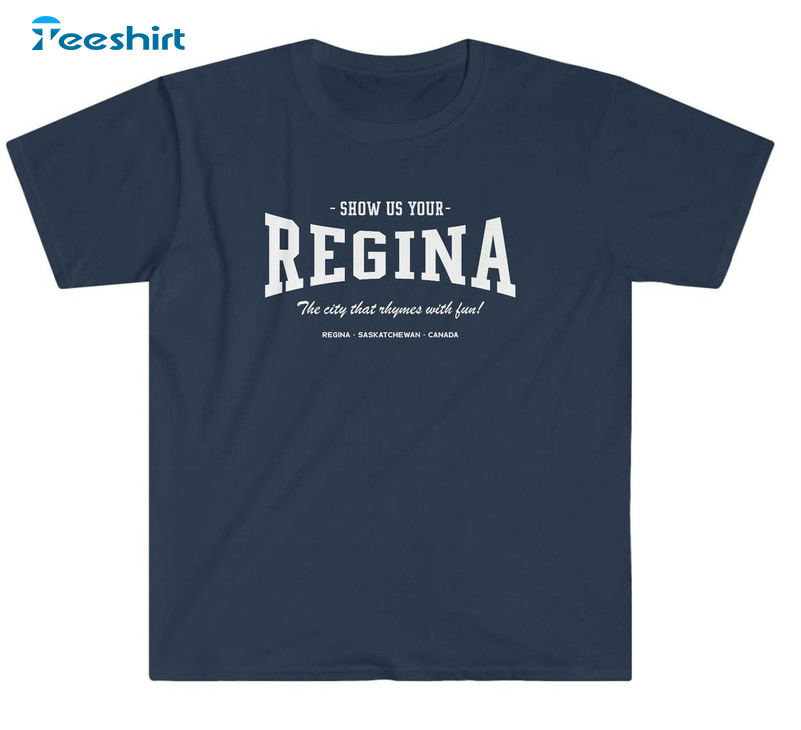 You can wear this shirt on special days or any other day when you need a little extra luck. The soft fabric and comfortable fit will make you feel great every time you put it on. So don't wait any longer, order your Show Us Your Regina The City That Rhymes With Fun Shirt today!
Features:
Fabric Weight: 5.3 oz (mid-weight). 100% pre-shrunk cotton (heather gray color is 90% cotton/10% polyester, light heather gray is 98% cotton/2% polyester, heather black is 50% cotton/50% polyester)
Double-stitched seams at shoulder, sleeve, collar and waist
Special Note: Mineral Wash colors have a slight yellow tint and not one is the same due to the special dye process
Imported.
Processed and printed in the U.S.A.