Introducing the Retro Me And Karma Vibe Like That Shirt from 9Teeshirt! Those who love female singer Taylor Swift can't help but know the famous song "Karma". This product contains a verse in that song, conveying a meaningful message behind it. Let's find out what it is!
In a recent interview with New Music Daily on Apple Music, Taylor shared insights about the concept of "Karma." Discussing the themes of her song "Midnights," Taylor expressed how it captures the intense emotions one experiences during late-night introspection, ranging from self-hatred to self-empowerment. According to Taylor, "Karma" reflects a sense of happiness and pride in one's life, serving as a reminder that positive moments and rewards can be deserved and cherished, offering a respite from self-criticism.
"Me And Karma Vibe Like That" is prominently printed on the shirt, and is a phrase or statement that implies a strong and positive connection between oneself and the concept of karma, which refers to the belief in the cosmic law of cause and effect. The phrase suggests a harmonious alignment between an individual's actions, intentions, and resulting outcomes, emphasizing a favorable and aligned relationship with the forces of karma.
The image of a cat sleeping soundly on a shirt could symbolize the idea of tranquility and contentment, as cats are often associated with relaxation and peace. When considering the phrase "Karma is a cat," we can interpret it metaphorically. Cats are known for their independent nature and the fact that they often require time and effort to gain their trust and affection. Similarly, karma can be seen as elusive or unpredictable, requiring patience and investment in doing good deeds in order to reap positive outcomes. By comparing karma to a cat, the implication might be that it also takes dedication and conscientiousness to cultivate good karma or lead a virtuous life. The phrase "Me And Karma Vibe Like That" could be interpreted as Taylor acknowledging her alignment with the principles of karma, indicating that she strives to do right and maintain positive intentions.
Please own this product in the Me And Karma Vibe Like That Shirt collection as a way to show your love to your idol.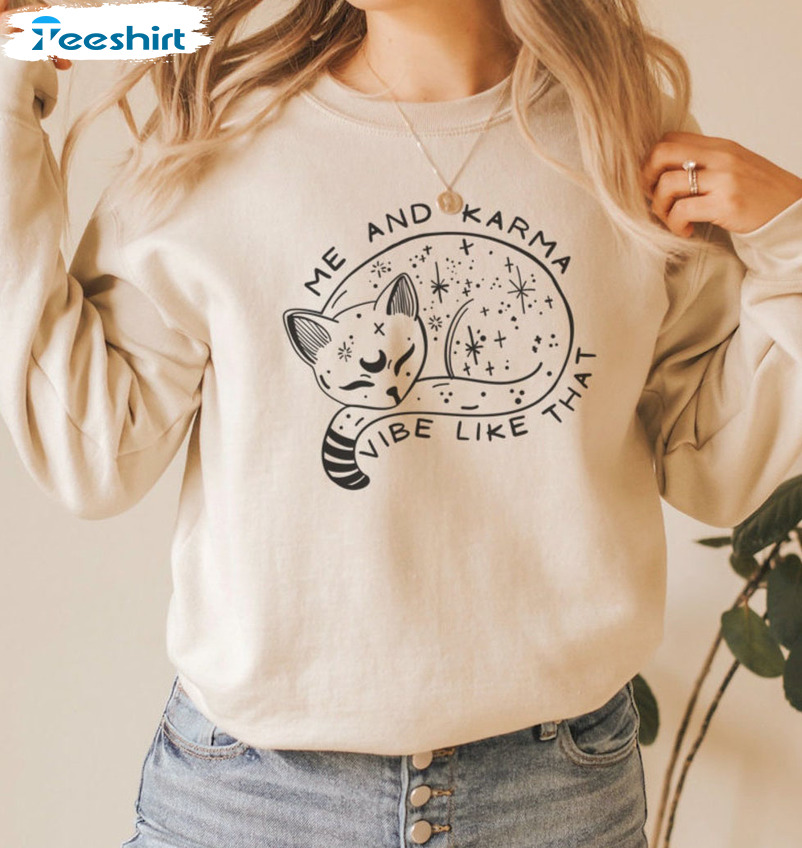 You can wear this shirt on special days or any other day when you need a little extra luck. The soft fabric and comfortable fit will make you feel great every time you put it on. So don't wait any longer, order your Me And Karma Vibe Like That Shirt today!
Features:
Fabric Weight: 5.3 oz (mid-weight). 100% pre-shrunk cotton (heather gray color is 90% cotton/10% polyester, light heather gray is 98% cotton/2% polyester, heather black is 50% cotton/50% polyester)
Double-stitched seams at shoulder, sleeve, collar and waist
Special Note: Mineral Wash colors have a slight yellow tint and not one is the same due to the special dye process
Imported.
Processed and printed in the U.S.A.