Introducing the Janet Jackson Together Again Tour 2023 Shirt from 9Teeshirt, a must-have apparel for fans and music enthusiasts alike. This exclusive shirt celebrates the iconic career and electrifying performances of Janet Jackson, showcasing her influence and legacy in the world of music.
Are you familiar with Janet Jackson? Born on May 16, 1966, in Gary, Indiana, she is an accomplished American singer, songwriter, dancer, and actress. Hailing from a musical family, Janet's brothers were part of the renowned Jackson 5, which included the late Michael Jackson. Initially starting her career as a child actress, Janet transitioned into music during the 1980s and gained prominence with her groundbreaking album "Control" in 1986. With a captivating blend of R&B, pop, funk, and dance, she has since released numerous successful albums and achieved chart-topping hits. Janet Jackson's multifaceted talent has also made a significant impact in film and television, earning her recognition as a prominent figure in popular culture. With an impressive global record sales estimate of 100 million, she has been honored with induction into the Rock and Roll Hall of Fame.
Janet Jackson has announced she's set to release new music and confirmed details of her 2023 'Together Again' tour. "Together Again" was written as a tribute from Jackson to a friend who had recently died of AIDS as well as AIDS victims and their families worldwide, as stated in the liner notes of The Velvet Rope (1997). Originally written as a ballad, the track was rearranged as a dance and house song.
In our design, Janet Jackson is printed very sharp on the front of the shirt with a prominent center image and other small images on the side forming a square picture frame that fits perfectly. All of her expressions from charming to cheerful are displayed beautifully. On the back are the words "Janet Jackson together again" prominently printed with the name of special guest Ludacris. Next to it is printed the schedule of this tour in the US states from April to June.
Available in a range of sizes, order yours today and get ready to rock out in style with Janet and her fans! You can also refer to more similar products in the Janet Jackson Tour Shirt collection.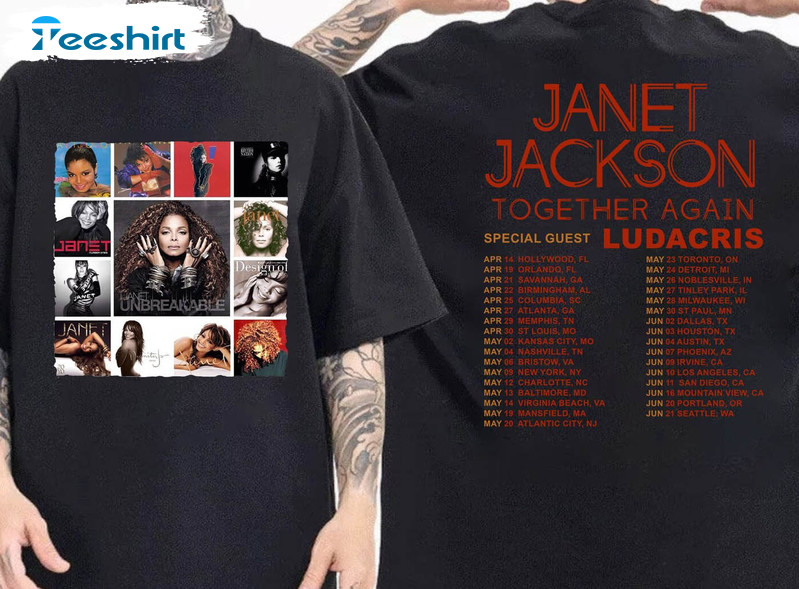 You can wear this shirt on special days or any other day when you need a little extra luck. The soft fabric and comfortable fit will make you feel great every time you put it on. So don't wait any longer, order your Janet Jackson Together Again Tour 2023 Shirt today!
Features:
Fabric Weight: 5.3 oz (mid-weight). 100% pre-shrunk cotton (heather gray color is 90% cotton/10% polyester, light heather gray is 98% cotton/2% polyester, heather black is 50% cotton/50% polyester)
Double-stitched seams at shoulder, sleeve, collar and waist
Special Note: Mineral Wash colors have a slight yellow tint and not one is the same due to the special dye process
Imported.
Processed and printed in the U.S.A.