Welcome to the space of the 9Teeshirt booth. We are pleased to present to you our newest product Big Cock Brock Purdy 13 Shirt.
What is your knowledge of "big cock brock"? Purdy's moniker was disclosed by Mike Silver of the San Francisco Chronicle, who unveiled that it originated from his behavior on the field. Purdy possesses such self-assuredness and authority that he acquired a three-word nickname, which cannot be printed due to its explicit nature. The nickname begins with 'Big' and is followed by two rhymings, one-syllable words, with the last word being his first name. The remaining details are left to your imagination. Purdy displays confidence and control during the 49ers' triumph over the Dolphins, receiving acclaim from his coaches and teammates.
Our design caters to diverse tastes and preferences, offering that everyone can find something they love. From the smallest to the largest sizes, our range of colors and designs have a broad spectrum of choices. We strive to create inclusive and appealing apparel for women, men, and young people alike.
The words "big cock brock" are emblazoned in a prominent and attention-grabbing font, demanding attention and sparking intrigue. Complementing the text is an artful depiction of a rooster, conveying strength, confidence, and vitality. The clever incorporation of the number 13 in the middle adds a touch of symbolism and enigma to the design.
This shirt recognizes the importance of fashion as a means of personal storytelling and empowerment. It acknowledges that clothing choices can serve as powerful tools to convey messages, evoke emotions, and challenge societal norms. By embracing unconventional designs and pushing boundaries, it encourages wearers to celebrate their authenticity and embrace the beauty of self-expression.
The essence of this product beckons individuals to embrace their inherent distinctiveness, perceive fashion as a means of self-expression, and confidently manifest a daring proclamation that mirrors their one-of-a-kind persona and style. Those who don't these garments are urged to transcend their comfort zones, revel in their self-assurance, and unreservedly exhibit their unparalleled fashion preferences to the world, celebrating their individuality with pride.
If you want to learn more about Brock Purdy, you can visit our latest Big Cock Brock Shirt collection for this talented guy.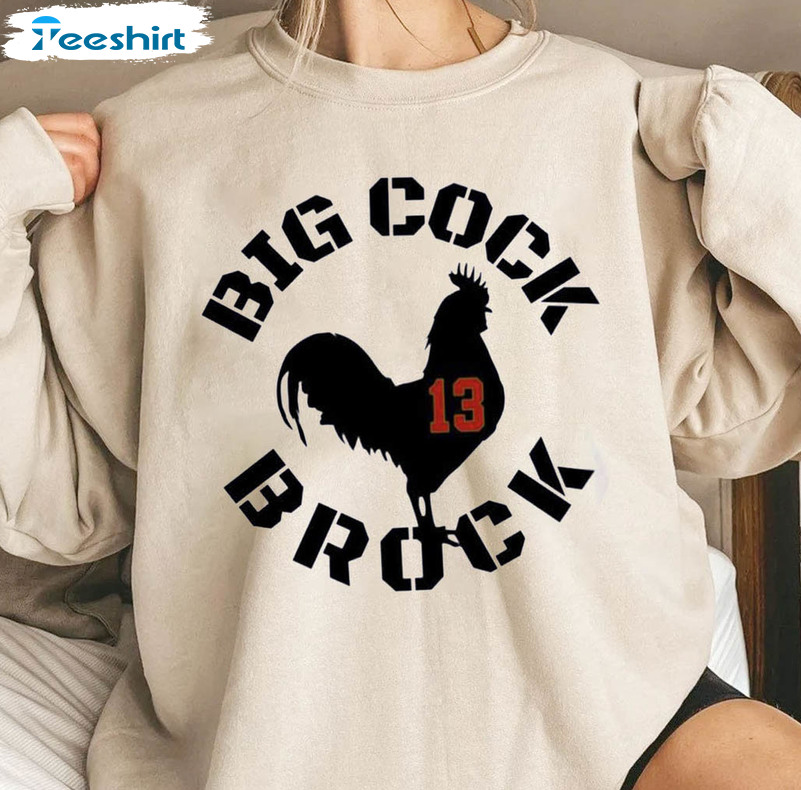 You can wear this shirt on special days or any other day when you need a little extra luck. The soft fabric and comfortable fit will make you feel great every time you put it on. So don't wait any longer, order your Big Cock Brock Purdy 13 Shirt today!
Features:
Fabric Weight: 5.3 oz (mid-weight). 100% pre-shrunk cotton (heather gray color is 90% cotton/10% polyester, light heather gray is 98% cotton/2% polyester, heather black is 50% cotton/50% polyester)
Double-stitched seams at shoulder, sleeve, collar and waist
Special Note: Mineral Wash colors have a slight yellow tint and not one is the same due to the special dye process
Imported.
Processed and printed in the U.S.A.